A network of trails to rediscover!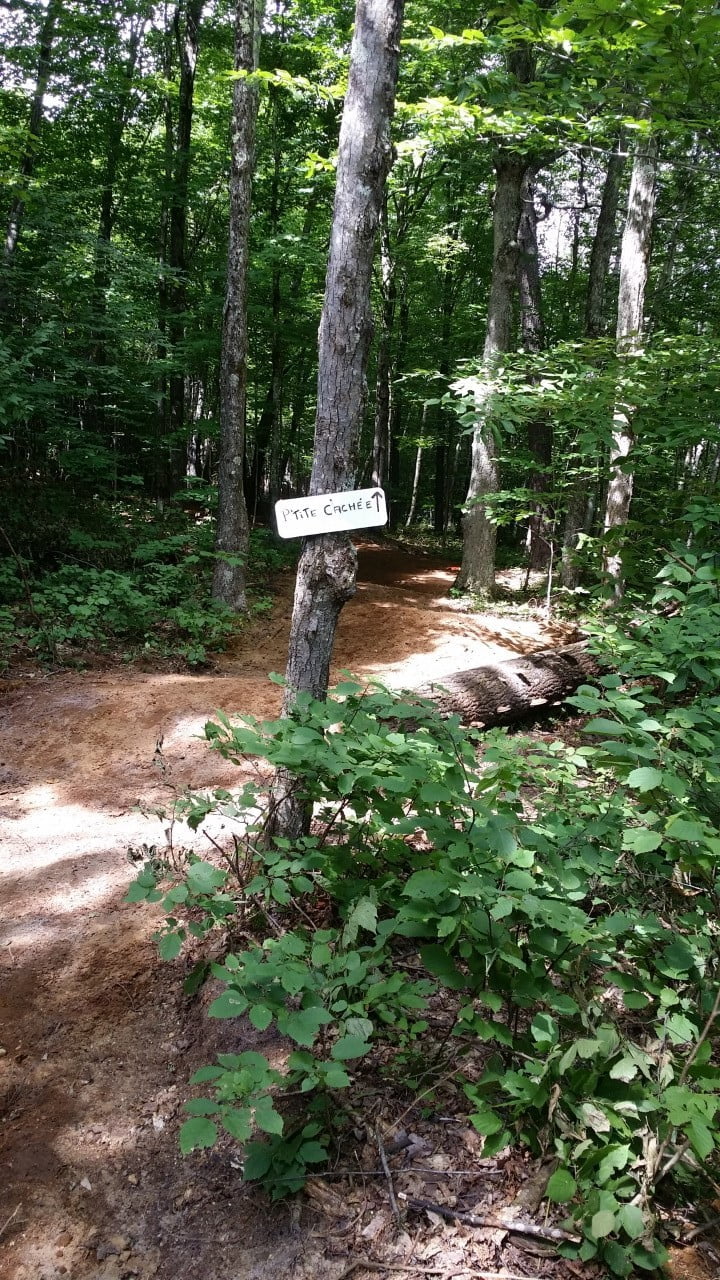 Since 2015, many mountain bike trails have been redeveloped or expanded in Mont-Tremblant. This was made possible thanks to a wonderful collaboration between the City of Mont-Tremblant, Plein Air Mont-Tremblant and Vélo Mont-Tremblant.
In addition to the new Gorge section that opened earlier this summer, the La Cachée and La P'tite Cachée trails officially opened on August 1st. Vélo Mont-Tremblant wishes to acknowledge the excellent work by the people and companies who got their hands dirty in these trails : Excavation PEA Inc from Ste-Adèle for La Cachée and Vertigo, mountain design from Saint-Sauveur for La P'tite Cachée. Not to mention the complete redesign of the Truite section between the river and the chemin Claude Lefebvre which is now much easier to climb thanks to Enviroforêt.
A new module in the « Envoye » en bas trail was also added by Philippe Poirier, owner of the Cybercycle shop. This section of the trail network is sure to satisfy even the more adventurous!
Vélo Mont-Tremblant would like to thank all the owners for rights of way on their land. Furthermore, all cyclists who pay their access rights make it possible to maintain and develop a good network of trails in Mont-Tremblant. So thank you!
New Trails Descriptions
La Cachée, intermediate trail
La Cachée is a new 2 km trail for intermediate-advanced riders that will take you almost to the top  of Mont-du-Lac, behind the Pinoteau. If you start from the north entrance, located at the north end of La Truite,  you are going to enjoy a one-way descent featuring a few  really fun berms. This descent ends up  at the bridge of the multifunctional path "La-Villageoise-de-Mont-Tremblant".  If you choose to start from the south, the descent on the north side is a succession of 8 turns that will take you to the new section of La Truite.
P'tite Cachée, easy trail
La P'tite Cachée was built to facilitate the climb up La Cachée  by the south side. The the trail starts off in the main La Cachée trail and it ends 700 meters further away where it rejoins the multifunctional "La-Villageoise-de-Mont-Tremblant".  Without technical difficulty, it's perfect for beginners who want to get into mountain biking or want to practice their pumptrack skills.
All that's left is for you to hop on your bike and come enjoy our trails! »
https://www.velomonttremblant.com/wp-content/uploads/2015/04/ptite-cachée.jpg
1280
720
andrea latour
https://www.velomonttremblant.com/wp-content/uploads/2020/10/logo-vmt-horiz.svg
andrea latour
2016-08-09 20:36:09
2020-10-09 20:30:46
A network of trails to rediscover!