A VIP mountain bike weekend for 90 girls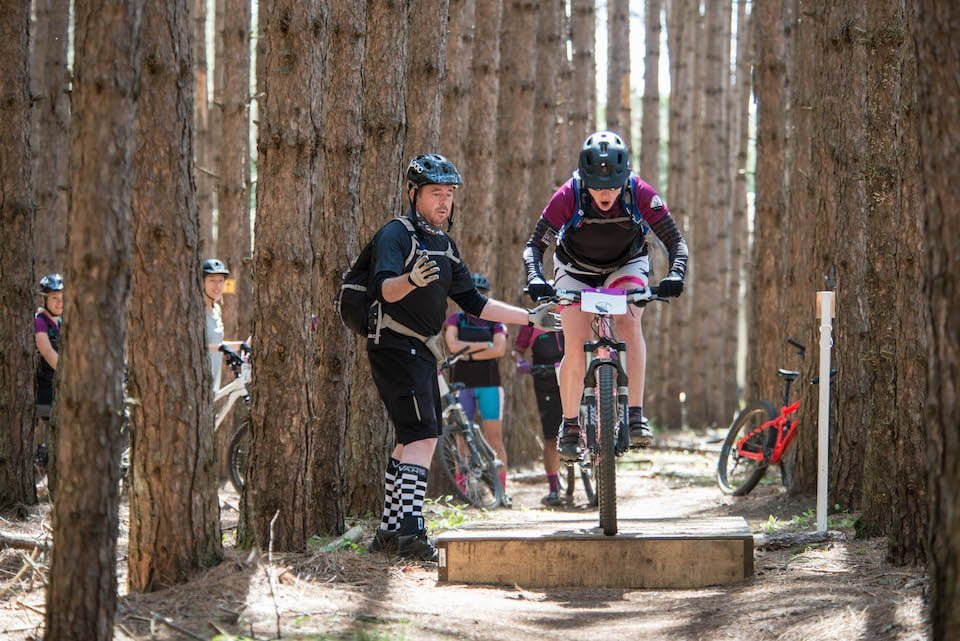 The women's mountain bike camp, Les Poules qui Roulent, took place from June 8 to 10, 2018. The camp was designed for women who want to discover mountain biking and those who want to improve and learn new riding techniques. Supervised by 15 instructors and coaches, the workshops offered the girls the opportunity to surpass themselves. They ventured out into the Mont-Tremblant trail network where they took the time to develop the techniques and skills that allowed them to conquer different passages more easily or to simply try sections that they would not have tried otherwise.
Based at the Grand Lodge Mont-Tremblant, the camp had everything to offer the girls a VIP weekend. About 50 participants took advantage of the 2-day package, of which 20 slept on location. 30 girls chose the Sunday only 1-day pass.
The weekend kicked off in the Grand Lodge barn with a projection of 2 mountain bike films under the adventure travel theme: Red Bull Media House's North of Nightfall, which takes place in the Arctic with spectacular scenery and refers to climate change and Kilimanjaro, Mountain of greatness, the adventure of 3 mountain biking legends who climb Mount Kenya and Kilimanjaro. The evening was a perfect way to start the camp, but also bring together a community of bike enthusiasts.
It was truly a worry-free weekend … Everything was included: meals (including lunch boxes, dinner and snacks recommended by nutritionist Ariane Lavigne), natural energy drinks, mechanical services (even in the trails), lunch delivery in the trails to maximize outing time, first aid services and a yoga session in collaboration with Lolë Tremblant.
Workshop groups were formed based on the experience and skills of each participant. Each group was assigned trails in advance to prevent all the girls from being in the same place. The instructors were great at adapting their courses according to the girls' levels and what they wanted to learn. Amazing energy and camaraderie was felt in each of the groups. The girls were motivated and had fun, all the while pushing themselves to improve.
We thank Station Mont-Tremblant, Cybercycle and Quilicot who loaned bikes to girls who were introduced to mountain biking for the first time.
"I went on a mountain bike for the first time Saturday morning. My only motivation was my 8 year old son who has been riding for 2 years. I finished this weekend camp with adrenaline in my veins, smiling and grateful for the great coaches who gave me the tools and confidence to continue mountain biking safely. Thanks to Vélo Mont-tremblant for sharing your passion. – Pascale Lanthier, participant
A big thank you to our many partners without whom we could not have accomplished so much: City of Mont-Tremblant, Tremblant, Quillicot Bicycles, Cybercycle, Rouge Marketing, Trees Mountain Apparel, The Grand Lodge, O'Cafe, L'Âme du Sport, MEC , Dakine, Emoson and Naak.

https://www.velomonttremblant.com/wp-content/uploads/2018/06/PMP_3930-copie.jpg
641
960
Vélo Mont-Tremblant
https://www.velomonttremblant.com/wp-content/uploads/2020/10/logo-vmt-horiz.svg
Vélo Mont-Tremblant
2018-06-14 08:32:30
2020-10-09 20:30:46
A VIP mountain bike weekend for 90 girls