GREAT THINGS HAPPENED THIS SUMMER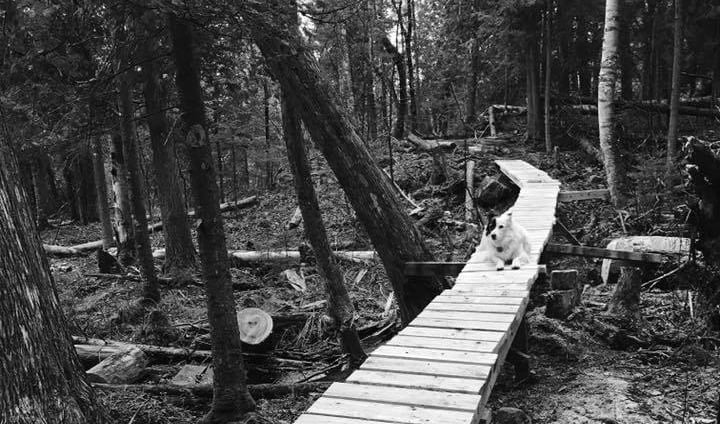 Vélo Mont-Tremblant's mission is to develop and promote mountain biking and fatbiking in the region of Mont-Tremblant with the support of the business community, the citizens and local organizations.
As such, Vélo Mont-Tremblant :
Administers, in collaboration with Plein Air Mont-Tremblant (PAMT), the operations related to the maintenance and development of trails to ensure their lasting quality, to ensure the safety of riders, to diminish the impact on the environment and to propose a rider experience that lives up to Mont-Tremblant's reputation
Promotes the trail network to increase its notoriety and visibility
Organizes annual events and weekly activities that are accessible to all and that also help us to initiate new riders
Here are the details of the work that was done in the trails this summer thanks to the city of Mont-Tremblant, Station Mont Tremblant and Domaine St-Bernard in partnerships with PAMT.
Improvements to the « émi » quilibre zone
Repairs to the pumptrack at the tourist information center
Building of a jump line, arunbike track and balance modules at the Daniel-Lauzon Park in the Village
Major revisions and improvements
Smaller interventions

Lynx – recovered a culvert and elevated the riding surface of two sections
Geai Bleu – rebuilt an entire bridge
Écureuil – improvement to humid zones
Chouette – repaired 3 bridges and 1 culvert
Approximately 125 trees were cut, pruned and cleared to free the trails
Our events and activities brought together riders of all ages and helped up initiate new riders. Here's an overview of what took place this summer.
Organized weekly rides from June to September on Mondays (Les Poules qui roulent) and Wednesdays, plus a Sunday morning ride every 2 weeks
Organized Après rides at local restaurants and bars
Organized 4 parent-child rides
Held trail maintenance activities with our patroller and our ambassadors to work on 3 different sectors of our network
Organize a Tailgate party to kick off the season with bike demos and vendors
Improved the Take a kid mountain biking day from a half-day to a full-day, over 150 kids took part in the activity } video
Improved our women's camp Les Poules qui roulent offering a 1-day option in addition to the full weekend, 70 women participated this year } video
Planned de 2 trail maintenance days, one in the Spring and one in the Fall
Collaborated to the programming of Vélomotion
Participated in the organization of the Coupe Gorge with MEC
In addition, since the Spring you can purchase your daily access or season pass online. You can also purchase Vélo Mont-Tremblant branded clothing and accessories and register for our ambassador program.
With winter just around the corner, go enjoy the fatbike season, it will help get you through to the next summer of riding.
https://www.velomonttremblant.com/wp-content/uploads/2017/11/pooh-midge_jackie-1.jpg
424
720
Vélo Mont-Tremblant
https://www.velomonttremblant.com/wp-content/uploads/2020/10/logo-vmt-horiz.svg
Vélo Mont-Tremblant
2017-11-09 11:06:12
2020-10-09 20:30:48
GREAT THINGS HAPPENED THIS SUMMER