The future of our trails is threatened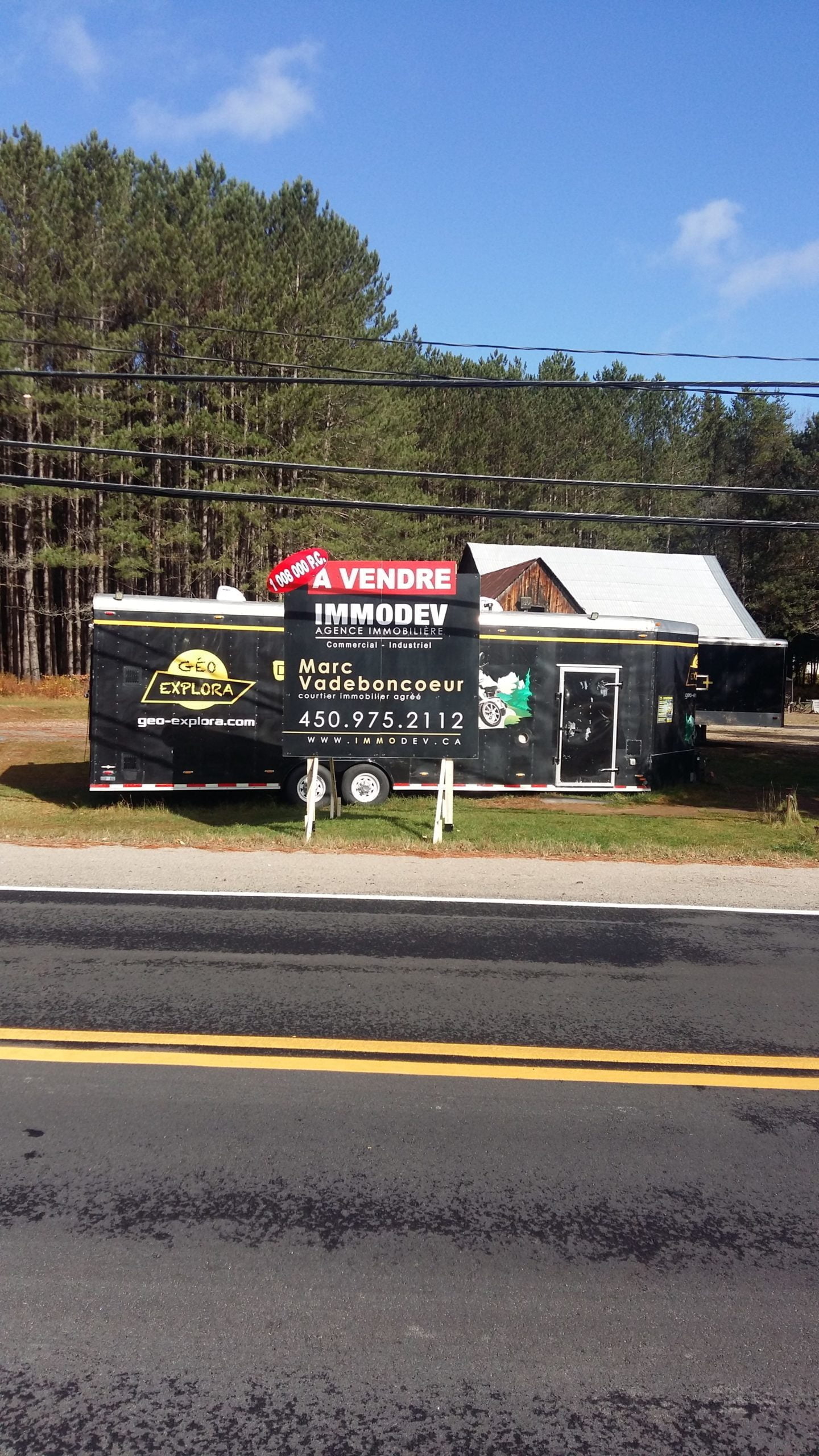 The real estate sign on the lot adjacent to the Grand Lodge has sparked reactions in the mountain bike community. The property, on which the trails Emi-equilibre, Labyrinthe and Grand Lodge are located, are up for sale!
When building the modules in Emi-Equilibre, many years ago, we knew that this land could be sold at any time and without notice. The landowner generously let us use it for hiking, snowshoeing, cross-country skiing and mountain biking. As a good citizen, the owner agreed to share this jewel with us, and we feel very grateful today. However, like all bike enthusiasts, we were hoping and dreaming this would last forever.
The loss of this land is a concern to us, as it is an important learning area that inludes beginner-level trails. There is an interesting loop to ride and a place to practice different techniques through bridges, rocks and drops. The tourist information office located next door is also a good entry point for families and to host our events that promote the development of the sport. Aside from Domaine St-Bernard, there are only a few places for beginners, children and young families.
Although the situation is worrying, the development and construction of trails on private land will always be a risk. It is a privilege to ride on these lands, and we have little or no control over their future. Although we prefer to see nature rather than real estate projects, economic progress is a reality we have to accept .
This situation opens our eyes and brings us back to reality: Tremblant continues to grow, and the future of many of its trails are threatened. For example,  Ecureuil and P'tit Crisse trails will have to be reworked due to new real estate development. We are in discussion with the City of Mont-Tremblant and Station Mont-Tremblant to find a solution to ensure the integrity of our network and its balance of black, blue and green tracks. For the Émi-equilibre and Labyrinthe trails, we hope to be able to use them for some time while the City develops a plan for the future.
As a Mountain Bike Club, our mission is to protect the future of our trails so our sport, which has grown significantly over the last few years, can still be practiced in Mont-Tremblant for many more years. Since nothing can be taken for granted and for the survival of our trails, we must continually remind ourselves look to the future of this network in our community, as well as its contributions to the economy and tourism.
Over the last few years approximately $400,000 has been invested in trails through local and provincial government funds. In addition, on October 16, the city announced an investment of $150,000  to fix seven trails that required some major work. We don't want to miss out on this opportunity to invest this money wisely. Since 2018, the City of Mont-Tremblant is responsible for all trail operations. Here are our expectations for the future development of the trail network that will be clarified with them.
Sustainably develop trails while involving the community (the technique used, trail location, chores, volunteering, etc.).
File the state of the trails likely to be damaged or disappear.
Prioritize trail development on lands the city of Mont-Tremblant holds legal access. (for example, Deer Mountain)
Develop the network with the agreement and cooperation of public and community owners (for instance, Domaine St-Bernard and Sepaq).
Invest in the purchase of land to ensure protected trails , create interesting access points and avoid street crossings.
We invite all bike enthusiasts, parents and friends of cyclists and the entire community of Mont-Tremblant who used the trails to become a Member of Vélo Mont-Tremblant so that we positively communicate our expectations to the city of Mont-Tremblant. We counted more than 200 members in 2018-2019 and wish to reach the 300 mark by the fall of 2020.
Encourage VMT to represent you with public and private decision-makers and join a movement of defence and development of trails. We will keep you posted on any developments.
https://www.velomonttremblant.com/wp-content/uploads/2019/11/20191025_123040-e1573248473380-scaled.jpg
2560
1440
andrea latour
https://www.velomonttremblant.com/wp-content/uploads/2020/10/logo-vmt-horiz.svg
andrea latour
2019-11-08 16:41:36
2020-10-15 11:35:16
The future of our trails is threatened