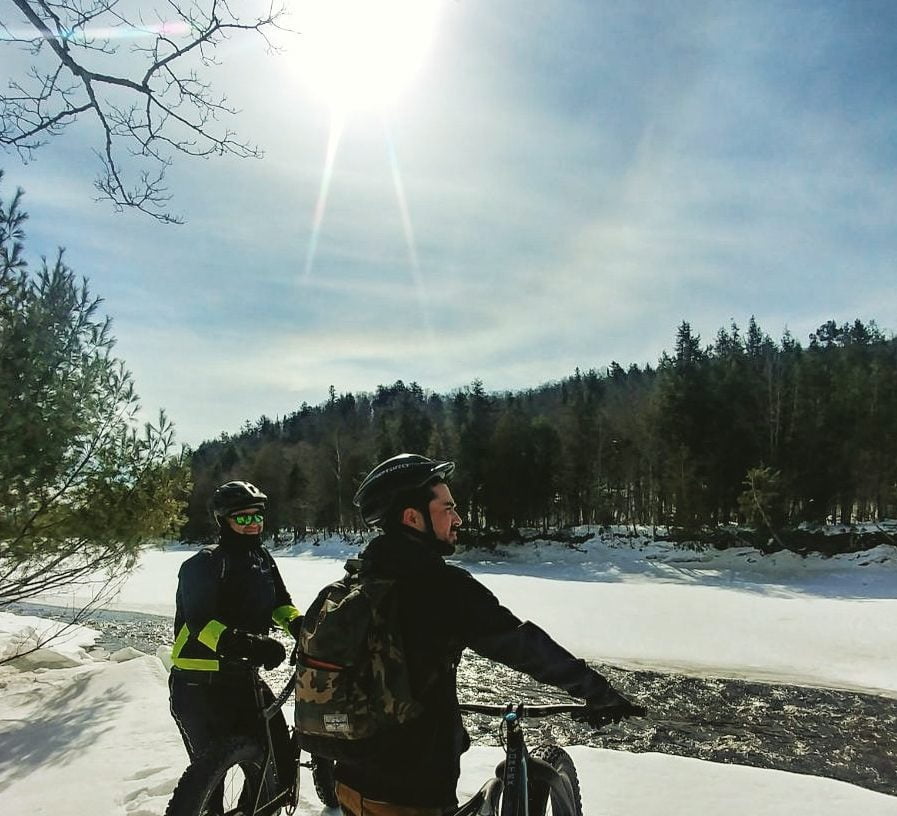 As temperatures climb, so does our urge to go play outside. Trail conditions, however, vary according to the time of day, the temperature on previous days and so on. It's not always easy to get it right, but if you plan well, springtime can be one of the best times of year to ride a fatbike.
The golden rule
When the temperature rises to above zero, you don't ride. This is an important rule to follow as otherwise, you can cause damage to the trail that's hard to repair. Your next experience and that of others depends on your following this golden rule. Note, too, that if the temperature doesn't fall back below -3 degrees Celsius the night following a thaw, the surface will not harden enough, forcing riders to wait a little longer.
Keep your calendar open for a few days to be ready to change the date of your outing, particularly if you plan to rent your fatbike. Remember that the colder it is, the better.
Where to ride
Planning your rides for the morning will help ensure that you ride on a hard surface. If the surface softens, avoid riding steep slopes like the Cachée, Écureuil and the section of Chouette beside the Quatre-Sommets road. Keep away from trails that get more sunshine, such as the Lynx, Chouette and Écureuil, and head instead for the Diable, Les Pins, Gorge and Sciotte. Consider lowering your tire pressure, as well. Start your ride with a maximum pressure of 6 PSI and lower the pressure if your tires are biting into the trail too much.
As you may be aware, when the snow melts, water accumulates on the trails and they can freeze. Be doubly careful, as you can run into more ice than in the middle of winter. Cyclists with studded tires will be at an advantage here.
Lastly, if you answer "yes" to one of the following questions, please get off the trails.
Is the depth of the tracks made by my tires an inch or more deep?
Am I having trouble going in a straight line?
Do I have to get off the bike to make it up a gentle hill?
Enjoy your rides!
As seen in Tremblant Express journal, March 2018.
https://www.velomonttremblant.com/wp-content/uploads/2018/03/IMG_7268-e1522072009112.jpg
816
897
Vélo Mont-Tremblant
https://www.velomonttremblant.com/wp-content/uploads/2020/10/logo-vmt-horiz.svg
Vélo Mont-Tremblant
2018-03-26 09:41:40
2021-04-27 16:18:37
Springtime riding